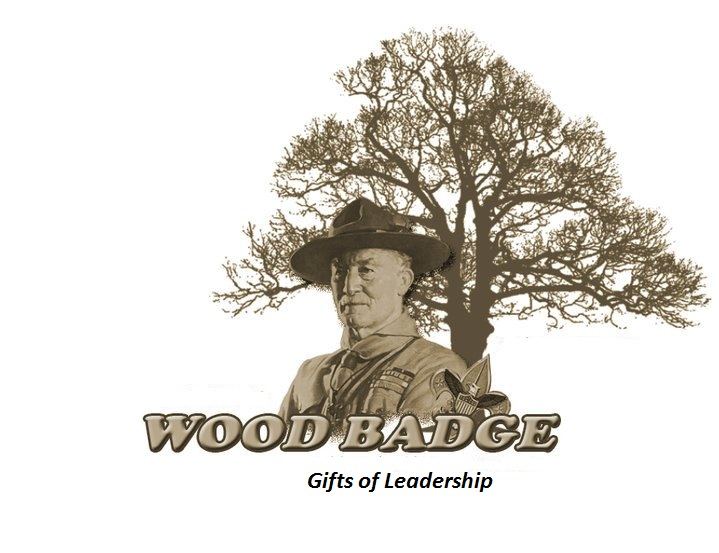 Wood Badge
What is Wood Badge?
Wood Badge is the most advanced adult leader training available. A Scouter participating in Wood Badge has the opportunity to understand Scouting as a family of interrelated, values-based programs providing age-appropriate activities for youth. It recognizes contemporary leadership concepts and will help the participant discover how they are relevant to the Scouting movement and apply the skills learned as a member of a successful working team. The course will revitalize their commitment to Scouting by sharing in an inspirational experience that provides Scouting with renewed leadership, resulting in a greater youth retention. Many Scouters consider Wood Badge to be a peak experience in their Scouting career.
Who may attend Wood Badge?
Wood Badge is for all Boy Scouts of America volunteers. It has been developed for Unit committee, Cub Scout, Boy Scout, Varsity Scout, and Venturing leaders, as well as Council and district leaders. The course content and leadership principles introduced apply to Scouters of all positions and will provide a common foundation of leadership skills to be used throughout all program areas.
Qualifications
Each Scouter invited to participate in Wood Badge training must be a registered member of the Boy Scouts of America and have completed the courses for their Scout position specific "Trained" patch.
Fall 2023 Wood Badge
All Day September 22-24, 2023 – Dining Hall, Harry S. Frazier, Jr. Scout Reservation (CCC)
All Day October 28-29, 2023 – LDC, Harry S. Frazier, Jr Scout Reservation (CCC)
-Both Weekends Required-
$75.00 Deposit is required with all registration applications.
Click Here to download registration flyer for Fall Course 2023
Click Here to register online for Fall Course 2023
Click Here for Wood Badge Participant Financial Assistance Request Form
Contact
Website:  Click Here
Facebook:  Click Here
For more information for the Fall Wood Badge course, contact Course Director Amy "Feathers" Zehnder at 502-541-3809 or email WB2023.LHC.Feathers@gmail.com
Staff Advisor, Sarah Rathburn, 502-400-5377 or email  sarah.rathburn@scouting.org