WHAT IS OVERNIGHT CAMP?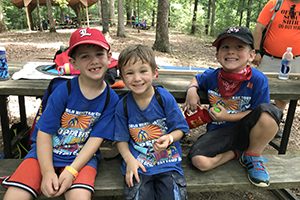 Cub Scout and Webelos Scout Overnight Camps are a council-organized, theme oriented, overnight camping program. Cub Resident Camp is an exciting three days and two nights just for Cubs.  Webelos Summer Camp is a fun-filled four days and three nights that are just for our Webelos Scouts.
Cub Scout Overnight Camp is designed to blend advancement and fun, packed into an adventure filled weekend.  Additionally, the Scouts will experience the outdoors and encounter life lessons including responsibility and cooperation.
New this year, siblings will be able to participate during our Family Overnight Camp. Cub Scout-aged siblings may join the fun, and the program will consist of Tiger through Bear appropriate activities and advancements.
WHO CAN ATTEND OVERNIGHT CAMP?
Cub Scouts entering into 1-3 grades in fall of 2020 can attend Cub Overnight Camp with their parent.
Cub Scouts entering the 1-3 grades and siblings (including Webelos-aged Scouts) K-5 grades can attend Family Overnight Camp. (No Webelos programming will be offered.)
Webelos and Arrow of Light Scouts who are going into 4th or 5th grade in fall of 2020 can attend Webelos Overnight Camp as den or individual(s) with their parent(s).
Webelos Overnight Camp
Webelos Overnight Camp is a short-term camping experience designed to introduce Webelos, their leaders, and their parents to a theme-based, summertime camping experience that will help the Webelos be prepared for a smooth transition into Boy Scouting. It's a memorable 4 days and 3 nights of thrilling and adventurous activities that keep campers excited for months after the closing campfire.
Webelos Overnight Camp is held at the Tunnel Mill Reservation (TMR) in Charlestown, Indiana, and a combined WRC/CRC at Pfeffer Scout Reservation (RCM) in Benton, Kentucky. Packs must provide adequate leadership for their Scouts, but every Scout does not need a parent to attend. The ratio of youth to adults must be 4 to 1 or less with a minimum of 2 adults.
At Webelos Overnight Camp, Scouts will participate in a variety of activities, including shooting sports, swimming, fishing, Scout skills, and much more. Many of these activities will help Scouts earn various Webelos activity badges and belt loops. Nights will be campfires, fun and games, and the tranquility of TMR. For leaders, it's a great place to spend quality time with your Scouts without the distractions of everyday life and just get away for a couple of days. Overnight Camp is pure fun from the time you get up in the morning until the time you crawl into your sleeping bag weary from the day's exciting adventure.
If you have attended Webelos Overnight Camp before, different programs are in place for 2nd year campers to complement traditional camp activities. If you have previously attended Cub Resident Camp, then Webelos Overnight Camp will offer new and exciting programs as you continue on the Scouting trail. Each summer, camp has a new exciting theme.
Online Registration: 2020 Webelos Resident Camp Session 1
Online Registration:  2020 Webelos Resident Camp Session 2
Online Registration: 2020 Webelos Resident Camp Combined Session
PDF Fillable:  2020 Webelos Resident Camp Youth Fillable Application
Webelos Overnight Camp Flyer
Cub Scout Camp Flyer
WRC Session 1 Class Selection
WRC Session 2 Class Selection
Click Here – Instructions on how to create an account in Tentaroo as a Parent
Click Here – Instructions on how to create an account in Tentaroo as a Unit
Click Here – Tentaroo Video and Screen Shots on Creating an Account
Family/Cub Camp
Cub Camp is designed to be a smaller more intimate version of its Webelos Camp brother. While a day shorter, Cub Camp packs the same level of activity and energy into its program. The program is based on a free schedule of events on day two which provide your Scout with the opportunity to do many Scouting and outdoor activities. The popular programs of archery, BBs, aquatics, and fishing are scheduled to provide the best possible program for your Scout. A schedule of events will be provided by the staff on the first day you arrive.
The camp starts off with a bang for the opening campfire provided by the staff. Skits and songs along with staff antics are sure to get your Scouts laughing. Day Two evening sees the return of the traditional movie where we will watch a movie in our dining hall. Throughout the camp you will have the opportunity to bond with your Scout while learning new things and experiencing all that Scouting has to offer. This will be the highlight of your summer and will be cherished by you and your Scout for years to come.
Family camp is the same Cub program but allows for the whole family to join.  Siblings, Cub Scout age and above, will be able to participate in the program and experience camp together as a family.
Online Registration: 2020 Cub Resident Camp
PDF Fillable:  2020 Cub Resident Camp Fillable Youth Application
---
2020 Cub & Webelos Resident Camp Dates
Click links above
Tunnel Mill
Pfeffer Scout Reservation
June 18- June 21 (Webelos)

June 25 – June 28 (Webelos)

July 10- July 12 (Cub)

July 17- July 19 (Family Cub)

July 9- July 12 (Webelos)

July 9- July 12 (Cub)
---
Informational Flyer
Den Leaders Guide
Health Form – please bring a copy of Health Form Part A & B to camp when checking in, for each individual attending.
For more information, please contact Sarah Flowers, Director of Camping Services, at 502-400-5362 or sarah.flowers@scouting.org.