International Scouting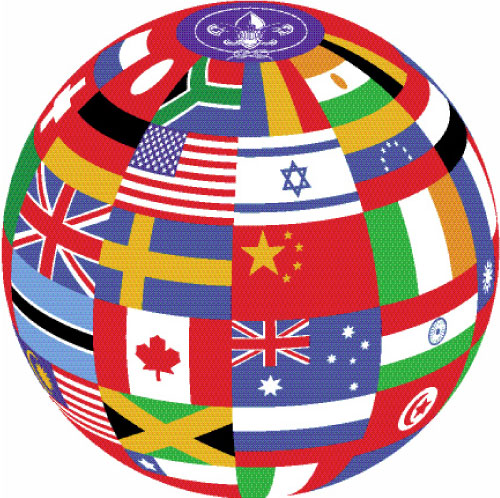 Scouting began in England in 1907, based on the ideas of founder Sir Robert S.S. Baden-Powell.  The Scouting program spread around the world until it became what it is now—the largest voluntary youth movement in the world, with a membership of more than 40 million. A member of the World Organization of the Scout Movement, the Boy Scouts of America was incorporated on February 8, 1910, by W.D. Boyce. Through the BSA's International Department, American Scouts and international Scouts are provided a common resource of programs, funding, and training that increases and enhances their experience in the brotherhood of Scouting.
INTERNATIONAL EVENTS AND OPPORTUNITIES | LINCOLN HERITAGE COUNCIL
Click on the titles for more information 
Summit Bechtel Reserve     New Hope, West Virginia    July 22 – August 2, 2019
The international gathering of thousands of Scouts from throughout the world occurs once every four years. This year the event will be held in nearby West Virginia and is probably the closest in will be for decades. There will be opportunities for visitors on July 24 through July 31. Advance tickets can be purchased on-line later this year.
The 62ndgathering of Scouts around the world will be held October 18 – 20, 2019.   It is as close as your computer or can be done in conjunction with local HAM radio operators. Additional information is available on-line.
It will arrive in the Louisville area early in December. More specific information will be available in the fall.
This moving event is a sharing of the Light of Christ. A flame from the Church of the Nativity in Bethlehem is taken by a young Scout from the grotto that is reputed to be the birthplace of Christ. This flame has been burning continuously for perhaps over a thousand years. The continuously burning flame is transported in special lanterns by Scouts around the world. It is then shared in places of worship, community gatherings, homeless shelters, governmental centers and homes.
ACTIVITIES FOR SCOUTING UNITS
Units conduct a collection and submit it to the World Friendship Fund where it is used to support Scouting in underdeveloped nations. The unit receives recognition including a certificate for their support.
Scouts and adults can earn the International Spirit Award through the completion of a series of activities designed to increase awareness of and participation in international activities. Information is available in the resource section.
Adults can earn this award and uniform knot by completing a series of activities related to international Scouting. It requires an effort over a prolonged period of time.
INTERNATIONAL TRAVEL
This can be a pinnacle activity for Scouts but requires extensive planning and coordination.
Kandersteg International Center is located in the stunningly beautiful alpine mountains of Switzerland near the interlake district.  Scouts from around the world gather there for a truly international experience.
Gilwell Center visit and stay at one of the birthplaces of Scouting in England.
International Camporees – are held almost annually somewhere in the world. There are camporees in nearby Michigan and Ontario,  Canada.
International Camp Staff Member – for a truly unique experience for older Scouts and adults, consider sharing your skills and culture at one of the Scout camps located throughout the world.
RESOURCES
National website – a multitude of resources are available on line through the international office of the Boy Scouts of America at www.scouting.org/international.
For additional assistance or resources
Gary Purlee