Upcoming Events and Activities
Haunted Woods — Saturday, October 24
Saturday, October 24 is HAUNTED WOODS at Pfeffer Scout Reservation (1531 Cross Rd, Benton KY) and Tunnel Mill Scout Reservation (3913 Tunnel Mill Rd Charlestown, IN).  Haunted Woods is a fun trail with Halloween themed events. Scouts will hike the haunted trail that will lead to events like BB and Archery, Haunted houses, crafts, games and activities.  Scouts will get a patch and candy for participating.
To register for Haunted Woods click here
Award Nominations for Council Recognition Meeting Due November 1
The Council Recognition Meeting is an opportunity for the Council to honor those volunteers who are giving exceptional service to the organization. Many special awards are presented at this annual event which is scheduled for March 6, 2021. Nominations for the various awards must be submitted by November 1 to the Council office. The list of awards with links to their respective nomination forms are listed below.  For more information on our website — Click Here
Silver Beaver Nomination Form. This is the highest honor a local Council can bestow upon a volunteer for outstanding service to the organization. Only a select few can be presented by the Council each year.
NESA Outstanding Eagle Scout Award. The NESA Outstanding Eagle Scout Award (NOESA) is a prestigious recognition granted by the local council to Eagle Scouts who have demonstrated outstanding achievement at the local, state, or regional level. The NOESA recognizes Eagle Scouts whose efforts have made a positive impact in the community.
Torch of Gold Award. The Torch of Gold is a council-level distinguished award of the Boy Scouts of America to recognize adults for exceptional service and leadership in working with Scouts who have disabilities.
Special Needs Scouting Service Award. The Special Needs Scouting Service Award recognizes adult volunteers whose active and outstanding service involves working with Scouts who have disabilities or special needs and promotes awareness of disabilities and special needs in Scouting.
Veteran Scouting Award. Any Scouter desiring recognition as 5-, 10-, 15-, 20-, 25-, 30-, 35-, 40-, 45-, 50-, 55-, 60-, 65-, 70-, 75-, or 80-year veterans must have maintained an active registered relationship for the required number of years, paying the annual registration fee. The records of the national office and local council shall determine eligibility. The periods of service claimed for veteran recognition need not be continuous.
Level I and Level II Archery Instructor Courses offered at Camp Crooked Creek – November 6 and 7, 2020
The Shooting Sports Committee is offering Level I and Level II Archery Instructor Classes at Camp Crooked Creek on November 6 and November 7.  To enroll in either class, contact Rick Tatum at (502) 649-7613 by October 23.  Click Here for Flyer Information.
Engineer Day November 7, 2020
We will be at Pfeffer Scout Reservation (1531 Cross Rd, Benton KY), Camp Crooked Creek (950 Terry Dr Shepherdsville KY) and Tunnel Scout Reservation (3913 Tunnel Mill Rd Charlestown IN.)  Your unit will be able to help your favorite camp prepare for the winter camping season.  Scouts will earn service hours while having fun with their friends.  Families are welcome to join as well. Units will be assigned projects based on the ability of the age group and will be provided supplies to complete the project.  Any unit that wishes to camp for the weekend can do so FREE OF CHARGE.  Contact Susie Rausch at 502-361-2625 or susie.rausch@scouting.org to reserve a campsite.  Click Here for the online registration.  Click Here for the flyer.
Commissioners College November 14, 2020  (Virtual Event)
The purpose of the Commissioners College is to offer commissioners a vehicle for continuing their education through advanced learning experiences in unit service. The College's objectives are to help commissioners expand their skills beyond those of Commissioner Basic Training and to expand the unit service philosophy. The goal of this experience is to promote the increased effectiveness of the individual commissioner.
This ongoing training opportunity will benefit new Commissioner, as well as, experienced ones. Any adult leader that is curious about the numerous resources available in the Scouting movement is invited to attend.
Please pursue the course offerings and make your decisions based upon your current job as a Unit, District or Council Commissioner.  Click Here for Flyer and Click Here for the online registration. 
Scouting for Food Saturday, November 14 and Saturday, November 21
Scouting for Food is one of the largest annual food drives in our area. Last year Scouts collected over 300,000 pounds of food, and this year's goal is to top that. Dare to Care Food Bank and other local food banks will use these items to help distribute millions pounds of food – to those in need. Scouts of all ages will be distributing flyers to homes on Saturday, November 14, and return to pick up the food on the morning of Saturday, November 21.  To register your unit, please fill out this link: https://forms.gle/YLxYgRWfsM1sHXXe8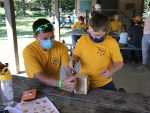 Click Here for COVID Protocols for Scouting for Food
Click Here for COVID pre-screening Scouting for Food Flyer Day
Click Here for COVID pre-screening Scouting for Food Collection Day
Winter Camp December 27-31
Winter is coming! For our Scout BSA Members our camp staff is putting together a winter event you will not want to miss. Winter Camp is a five day and four night excitement filled activity held annually at Pfeffer Scout Reservation in Benton, Kentucky and Harry S Frazier Jr Scout Reservation. The Lincoln Heritage Council is proud to sponsor this event where your Scout Troop will be able to earn a variety of Merit Badges and participate in fun activities such as a Polar Bear Plunge and Eskimo Luau, while working on S.T.E.M. focused merit badges. We will also have competitive games, adult leader trainings, and other winter-themed activities.
For more information on our Winter Camp program visit; https://lhcbsa.org/winter-camp/?highlight=winter%20camp%20