Cub Scout Day Camp
 Cub Scout Adventure Boxes:
Each rank specific box is filled with nearly everything you need to complete five elective Cub Scout Adventures at home and kick start your Scouts advancement to the next rank this summer.
Within each box you will find a copy of the Scout Oath and Law, and other assorted items which will help you to complete the adventure requirements at home as a family.  Items may include craft kits, magic sets, and other small science equipment which makes shopping for supplies unnecessary. Each box also comes with activity specific written and video instructions so you can easily participate with your child.
Each Adventure Box is designed for one child and will be available for limited contact pickup at Louisville Scout office, all local Scout shops, the shipped directly to your home after June 15 (shipping fees not included).  While these boxes are geared toward members of Cub Scouting, the activities involved are fun and available for all children!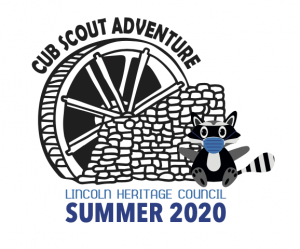 Preorder yours today by clicking here!
The adventures that come with each box will vary and a sample is below.
Tiger Adventure Box – Going into First Grade
$55.00
Curiosity & Intrigue
Floats & Boats
Good Knights
Rolling Tigers
Sky is the Limit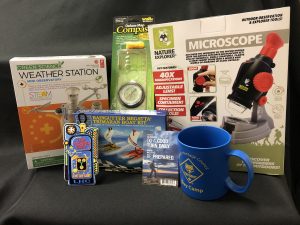 Wolf Adventure Box – Going into Second Grade
$55.00
Grow Something
Collections & Hobbies
Finding your Way
Motor Away
Germs Alive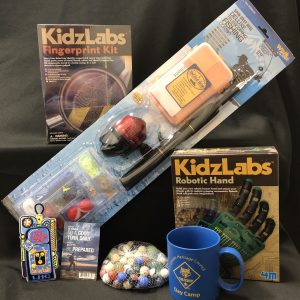 Bear Adventure Box – Going into Third Grade
$55.00
A Bear Goes Fishing
Beat of the Drum
Forensics
Marble Madness
Robotics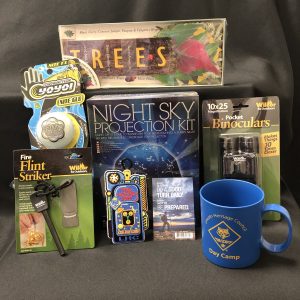 Webleos & Arrow of Light Adventure Box – Going into Fourth or Fifth Grade
$55.00
Adventures in Science
Castaway Adventure
Into the Wild
Into the Woods
Yo-Yo Adventure
Online Camp store: pick up your 2020 camp t-shirt, patches and other camp gear here!  Order of $25.00 or more will receive a Free small slushie in our 2021 camp season. Click Here to start shopping!

Camp T-shirts are available to order! Collect all three! Click Here!
---
WHAT IS DAY CAMP
Day Camp is a great summer activity for Cub Scouts.  It is a week-long experience for all registered Cub Scouts K thru 5th grades.   Day Camp is where Cub Scouts can shoot BB guns, bows and arrows, learn about nature, do leatherwork and crafts, play games, sing songs, and do many more activities.  Leaders and Scouts alike have a great time.
WHAT TO BRING
Cub Scouts should bring a sack lunch each day; bring non-perishable foods & drinks only. Bring rain gear if weather looks threatening, sunscreen and bug repellent.  Everything else is provided.  Adults may bring a chair and a small tarp for the boys to sit on.  No open-toed shoes or sandals are allowed at camp.
WHAT ABOUT LEADERSHIP?
Pack Leadership & parents are encouraged to participate.  All Lion Cubs(kindergarten) and Tiger Cubs (1st Grade) must be accompanied by an adult. Packs may be required to provide adult leadership and will be notified if necessary.  No adults pay a fee.
Adults who plan to spend five days at camp, and whose application is received two weeks before camp starts, will receive a free t-shirt.
Scouts should register with their pack.
WHAT ABOUT YOUNGER CHILDREN?
A special area called the Lil' Buddy Camp is available for younger children of adults who are serving as Den Walkers and Staff members.   Parents must be at Camp for their child to attend.  A nominal fee of $25 covers the entire week or for any combination of days. Snacks, T-Shirt, and activities will be provided.  Children must be potty-trained.  These children should also bring a sack lunch. You are required to pre-register your Lil' Buddy.
HOW MUCH DOES DAY CAMP COST?
Cub Scout Day Camp is $110*.  This fee includes a t-shirt, cup, patch, snacks, crafts, and all the fun possible.  Register by May 2nd (for June camps) and June 3 (for July camps) and receive a $10 discount.
*(A late fee of $20 will be charged for all applications received within 3 weeks of the start of camp.)
Some camps charge an additional site fee.  See the chart below:
| | | |
| --- | --- | --- |
| Camp Additional Fee | Tunnel Mill  $5 | Freeman Lake      $5           Buffalo Trace Park $5 |
---
---
NEED HELP?
A limited number of camperships are available for those who may need help with the fee. The youth's parents must submit the application for a campership by April 30th.  Visit our Forms Page for the campership form or contact the Scout office at (502) 361-2624 for more information.
---
2021 Dates and Locations Coming Soon!
Day Camps generally run from 8:30 a.m. – 4:30 p.m. each day (although some camp times may vary slightly)
Twilight Camps generally run from 4:00 p.m. – 9 p.m. each evening (although some camp times may vary slightly)
* This camp is a twilight camp.
| | | | |
| --- | --- | --- | --- |
| District | Location | Date | Registration |
| | | | |
| | | | |
| | | | |
| | | | |