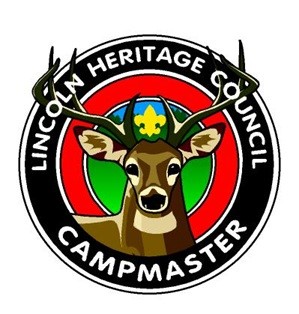 Campmasters
The Campmaster Corps is a group of selected, trained, and registered Scouters who serve at Council weekend camps whenever Troops, Teams, Webelos dens, or Posts are using any part of the camp property. Campmasters select their own time and frequency of service, but they usually serve two to four times a year. The group is organized under the leadership of the Council Camping Committee. The entire project and its personnel are responsible to the Scout Executive or Director of Camping Services, or someone appointed by the Scout Executive or Director of Camping Services. The Corps generally meets twice a year to evaluate its program, schedule ahead and arrange for the training of any new members.
Campmasters are selected on the basis of their ability in several areas: outdoor skills, specialized knowledge of nature and conservation, and leadership skills. All campmasters must have a record of demonstrated ability to get along with people, to lead, and to act in an emergency. All campmasters must have a working knowledge of Scouting, Troop and Team operations, Scout advancement, and Webelos Scout camping. Experienced and registered Scouters, with the exception of unit leaders, are eligible for consideration as campmasters. (It is generally conceded that a unit leader's major concern must be the particular unit served.)
The training prerequisite is determined by the council. It is important that the person have outdoor experience and people skills. Any questions regarding the Campmaster Corps or to RSVP to events or have your contact information changed, please contact Brandy Koenig at brandy.koenig@scouting.org  or 502-361-2624.
Forms