Council Wide Kick-Off Power Point
Click Here for Power Point Presentation

NEW deals on the BEST CARDS EVER!
EVERY District has a card featuring local deals making them an easy sell, no matter where you live!
CLICK on the cards below to see examples of the amazing deals we had in 2023!
Similar deals coming in 2024!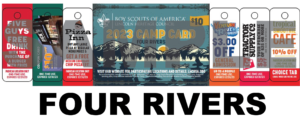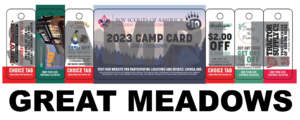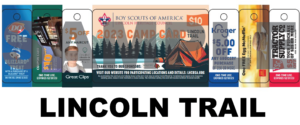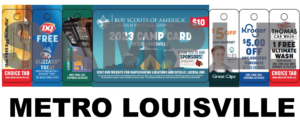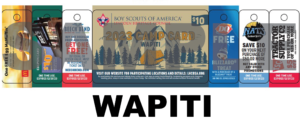 WHY SELL CAMP CARDS?
Camp Cards are designed to help units and their members earn their way to…..
A CUB SUMMER EXPERIENCE
WEBELOS OVERNIGHT CAMP
SCOUTS BSA SUMMER CAMP
HIGH ADVENTURE BASES
NATIONAL YOUTH LEADERSHIP
AND SO MUCH MORE!
CAMP CARDS ARE RISK-FREE! (return any unsold cards)
CLICK BELOW for a video of selling tips!!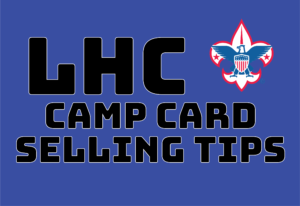 HOW THE CAMP CARD SALE WORKS
Each camp card contains LOCAL deals and discounts valued over $285!
Scouts sell each card for $10 and immediately earn 50% commission!
There is NO COST TO PARTICIPATE!
Units may request any number of cards that they aim to sell and return any unsold, undamaged cards by June 1 with no penalty!
The 2024 Lincoln Heritage Council's camp card sale will begin in March 2024 and run through June 1, 2024.

For Camp Card Incentives – Click Here
Little Tips for Big Success When Selling Scout Cards
Be Seen! Always wear your uniform when out selling.

Smile and tell them who you are. Remember first name only!

Tell them what unit you're with. (Customers love to hear the local Scouting story!)

Be sure to mention why you are raising funds!  What are your Scouts doing this summer?

Remember each card sold will save the customer money all year long!

A Scout is Friendly! Be sure to thank the customer for their support.