Lincoln Heritage Council, District Operations

Supporting our District Committees & Volunteers!
2022 Lincoln Heritage Council District Leadership:
District Leadership Directly Supported by Board and Council Management: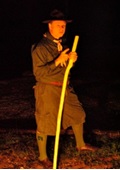 Scouters,
District service is a great way to continue to build strong youth leadership that will serve our communities, state, and nation.  Service in the district supports membership, volunteers, fundraising, and strong programs that build unit participation.
The last two years have been extremely hard on membership as COVID and quarantine suppressed so many activities we enjoy.  Although scouting endured through those tough times, membership declined.  We are actively building back membership.  Our summer camps are filling up quickly along with cub scout experiences for this upcoming summer.  Each of these activities provide an opportunity for our youth to grow and develop.  It provides an opportunity for adults to participate in the rewarding experience of nurturing youth development.
I'm a long-time scouter who has had the good fortune to serve in many roles in scouting and through each of them leave a legacy.  Baden-Powell stated that he wanted to leave Scouts and Scouters a message that would share the most important lessons he had discovered in his life.  His message is, "The real way to get happiness is by giving out happiness to other people. Try and leave this world a little better than you find it and when your turn comes to die, you can die happy in feeling that at any rate, you have not wasted your time, but done your best."
Whether you serve on the unit level, the district, council, or national level each role is critically important.  I've learned that no role sustains itself without the help of others.  I'm honored to serve as a resource to the district chairs of our council.  Together we will continue to build stronger communities, state, and nation through the development of girls and boys into strong women and men through the experiences they get from scouting.
Yours in Scouting,
David Huff
When you serve as a district volunteer you are part of a worldwide movement, composed of people who are dedicated to a common goal, who use organization as a means, not an end. The whole hope of the movement rests upon two assumptions:

That unit leaders can use the movement's program in a manner to make a difference in the lives of young people.
That district volunteers will do whatever is necessary to ensure every unit leader's success.
Charter Organizations & Representatives Support
Annual Charter Agreement
Click to view Annual Charter Agreement
* The Lincoln Heritage Council is looking forward to further supporting and strengthening all of our charter partnerships in 2021 for the benefit of the youth we serve.
* Our goal in 2022 is to meet with all organizations to have an active conversation using this Annual Charter Agreement as a guide. Within this annual meetings it has always been our goal to discuss our partnership, but specifically discuss the strength of your Scouting programs and any ways we can perhaps make them even stronger.  We also want our partners to fully understand all of the resources and support that we provide to our programs and organizations. We are looking forward to a great 2021 within our Council and your Scouting programs!
---
Additional Resources
We are striving to compile resources into one spot for our committees below. If you cannot find something that you need please let us know. If you have a helpful suggestion or ideas for our page please share.
Thank you for your service to Scouting!